Stabilized Wuhan Trimeric Spike Protein
Produced in CHO cells. Available in mg to grams.
We've created a stable, clonally derived, recombinant, suspension grown CHO cell line that produces a secreted, stabilized version of the trimeric spike protein of SARS-CoV-2.
This cell line is suitable for large scale manufacturing in chemically defined media. The secreted trimeric spike accumulates in the protein-free cell culture fluid of the cells. Our multi-step, HPLC-based purification process further ensures that the resulting trimeric protein is of high purity (> 95 %).
This protein is now available for applications such as diagnostics, R&D and vaccine development.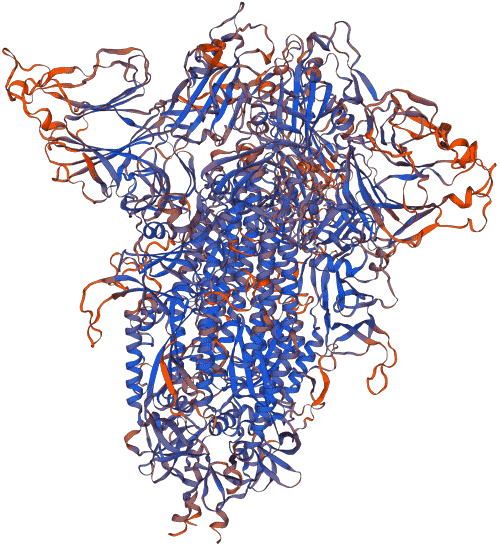 Product datasheet
This product is intended for research use only.
Stabilized Trimeric Spike Protein SARS-CoV-2 (Wuhan)
Modifications
C-terminal Transmembrane region replaced with a trimerization domain and a polyhistidine tag. Two stabilizing proline mutations and scrambled S1/S2 furin cleavage site (see reference)
Isolate (Seq ID)
Wuhan-Hu-1 (GenBank: MN908947)
Expression system
CHOExpress

®

cells
Purity
> 90 % as determined by SDS-PAGE
Molecular weight
The recombinant SARS-CoV-2 trimeric spike protein consists of 3576 amino acids and predicts a molecular mass of ˜400 kDa.
Endotoxin
< 1.0 EU per μg protein as determined by the LAL method.
Format
Liquid
Reference
Wrapp D. et al. Cryo-EM Structure of the 2019-nCoV Spike in the Prefusion Conformation. Science 367, 1260–1263 (2020)
Verification of purity and size of the recombinant trimeric SARS-CoV-2 Spike Protein under non-denaturing conditions. Size-exclusion chromatography (SEC) plot with peak at 4.0 minutes, corresponding to a size of ˜460 kD.
Verification of size and purity of the trimeric SARS-CoV-2 spike protein under denaturing conditions. SDS-PAGE gel showing a band corresponding to the size of the spike monomer; ˜ 150 kD.